ATTENTION MEETING PLANNERS • EXHIBIT MANAGERS
CORPORATE PRODUCERS
FOR YOUR NEXT
TRADE SHOW • SALES MEETING • SPECIAL EVENT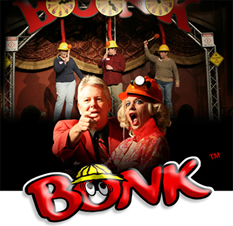 THE GAME SHOW
booking information
and to request a video
CONTACT
www.jerrynewton.com
email:jerry@jerrynewton.com
Phone Number 323.656.4200 / 323.839.6374


Jerry Newton brings Bonk!!!
to a brand new form of Comedy and Entertainment...
For Corporate Events
A Hilarious New Corporate Comedy Game Show
created by Kerry Pollack
Hot New Comedy Game Show! Part General Knowledge - Part Physical Mayhem - All Comedy!
BONK is the game show based on the immutable certainty that, if your guests are laughing and participating, they're enjoying themselves. Which means they will certainly come back for more! Bonk will promote your venue or product through the best type of advertising there is … Word of Mouth!
Trick questions, comedy, music, participation and prizes keep the entire audience involved from start to finish. Our professional writers provide original comedy material and cleverly integrate your product into the show.
Bonk has been highly successful in the corporate market, colleges, Royal Caribbean Cruise Line, and most recently at the Rampart Casino in Las Vegas Nevada.
What do you get when you cross the fun and excitement of a LIVE TV game show, the challenge of a general knowledge contest, and the craziness of a Three Stooges movie? It's BONK! - The Comedy Game Show based on the immutable certainty that while getting hit over the head isn't funny, watching other people get hit over the head is.
The Game
The onstage mayhem is overseen and orchestrated by the BONK Host, with a big helping hand from the lovely and talented BONK Hostess. Unlike standard TV game shows - contestants "buzz in" to answer questions by whacking themselves on the head with a large soft mallet (don't worry...they're wearing helmets)! Points are given for correct answers and deducted for incorrect answers with prizes for the winners. Heck...there are even prizes for the non-winners, after all, this is BONK!
We don't forget about the rest of the audience. Throughout the show everyone in attendance will be made to feel like they are a part of the game by being given the chance to answer BONUS BONK questions. They may even win prizes of their own!
In a corporate setting a full game can range in length from 30 to 75 minutes and features several rounds, numerous contestants, fun parting gifts, music, and of course, BONKING! In a trade show setting the games run on a regular basis throughout the day. Lasting between five and ten minutes BONK is proven to make audiences remember your message.
Bonk! (Game Show)
Topics: Game Show - Hilarious - Interactive – Customizable
For Availabilities: Phone 323.656.4200 / 323.839.6374
THE BONK SHOW is a high-energy, fast-paced, innovative mix of stand-up and situational comedy delivered in a game show format. The standard show comes complete with hilarious prizes and props, a fully computerized set, sound system, A professional comedy host who will keep your audience rolling in the aisles.
During the show contestants will be challenged to answer trivia questions, unscramble puzzles and possibly even dance the Macarena. Unlike regular game shows where you "buzz in" to answer a question, contestants use a large soft mallet to "BONK" themselves on the head to qualify. Questions range from absurdly simple and silly to challenging and are always humorous, not to mention the hilarious "trick" questions that THE BONK SHOW is famous for.
Designed by professional comedy writers (from Seinfeld), and hosted by top comedy entertainers, THE BONK SHOW is the ideal team building, moral boosting, stress reducing, high energy, hilariously funny comedy show!
Designed by professional comedians, and hosted by top comedy entertainers, BONK will be the hit of your next event.

BONK's numerous applications include:
• Corporate Events - BONK is perfect for entertaining guests at conventions, awards dinners, year-end parties, sales meetings, etc. With uses as either an event opener (wake-up call) or closer (evening entertainment).
• Trade Shows - As your potential clients walk by your booth they will stopped in their tracks at the mere sight of the BONK set...not to mention audience volunteers whacking themselves on the head and answering fun and informational questions about your product/service.
• Fairs - BONK is funny, visually impressive, and the perfect crowd-pleaser.
• Colleges - The ideal entertainment option for the college crowd. It's outrageous, it's hilarious, it's gonna be BIG!

BONK will make your guests laugh, visually stun them, and get them thinking.

The Reviews Are In!
"BONK is funny! Then again, funny is BONK's sole purpose."
Scene Magazine

"Bonk was a huge success. We will definitely book it again!"
Anritsu Corporation

"Your material was fresh, the audience interaction outstanding and the end result was a successful 30 week run."
Pickwick & Frolic

"The recent conference held in Cleveland was a buzz with BONK. Your creativity to literally drive our message into the heads of the attendees was extremely affective. In these times it is so nice to find an informative entertainment vehicle that is exciting, new, and appropriate for our audience. Well done!"
Multiple Products Co
Contact
Jerry Newton for Fees and Details
Phone 323.656.4200
323.839.6374
Click Here